There's more to Nha Trang than white-sand beaches, off-shore islands, and glitzy resorts. Hidden waterfalls and springs surrounding the city offer nature-lovers cool, peaceful respite.
"Don't go chasing waterfalls, please stick to the rivers and the lakes that you're used to…" So go the lyrics of the 1990s global hit by American girl band TLC. Well, when it comes to things to do around the coastal city of Nha Trang, we're here to tell you: That's decidedly BAD advice. 
In fact, chasing waterfalls is exactly what you should do. Let's face it: some days during a beach holiday, you'll want a break from the sun. Fortunately, the many mountains surrounding Nha Trang allow for that. Picture it: A scenic ride into the cooler mountain air. The hush that falls as you enter a forest. It's an abundance of greenery. Cool mountain streams. And stunning waterfalls to reach. What more could any nature-lover ask for?
There are some well-known touristic waterfall destinations near the city. Then there are the more hidden falls and babbling brooks known by locals. Here are some to consider…
Yang Bay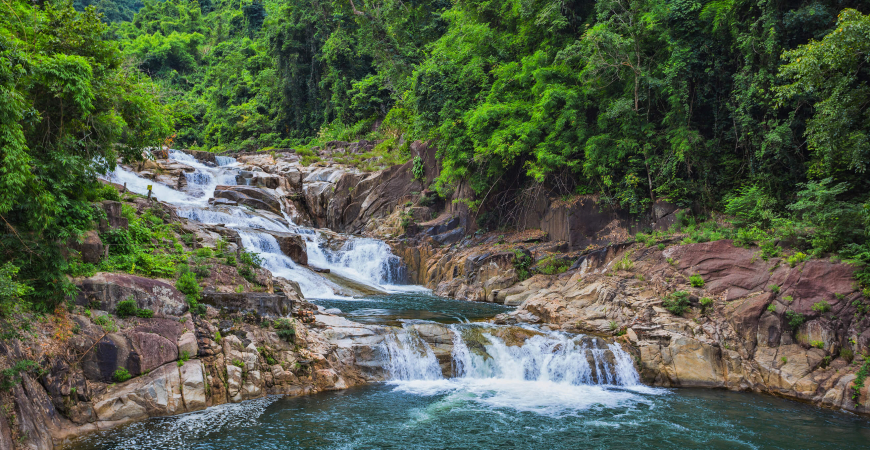 FOR: A fun, family-friendly day out.
WHAT: The largest waterfall formed in a valley of three mountains (Yang Bay, Yang Khang and Hocho). It's more than 2,000m long, with a height of more than 80m and two lakes: one large; one small. There's also a natural hot mineral spring bath.
WHERE: About 40 km from Nha Trang city in Ngã Hai hamlet, Khánh Phú, Khánh Vĩnh, Khánh Hòa province.
 
As it's in a wide valley of primeval forest 100m above sea level, it's lush and cool here all year. It's so dreamy, it was named 'Heaven's Waterfall' by the Raglai (meaning 'forest') ethnic group who've long called the region home. It remains a sacred site. For instance, you can see a special tree there (cây mộc thần) that Raglai people still pray at. It is estimated to be more than 500 years old, its large trunk, festooned with ribbons, takes about 15 people to hug right round. Apparently, the tree representing the Wood God has eight 'faces', facing eight directions. These represent the key facets of human life: love, health, family, career, money, study, prayer and peace of mind. Cultural tourists will also enjoy the Raglai folk-music performances and display of traditional instruments. 
Active types will enjoy the rafting, archery, and rope-swinging on offer. Kids will appreciate the crocodile park. Those seeking a more tranquil day out can visit the hot mineral stream, enjoy a 'fish massage', and stroll through the 14,000m2 flower park. Take a break with a bite at the restaurant. 
Best time to visit? From March to September. For more information, visit the website. 
DIRECTIONS: Follow road 23/10 through Diên Khánh town (Thành); continue along National Highway 1A towards HCMC to Lùng Bridge (about 13km), then turn right along the road to Đà Lạt (about 17km). Turn left. Go straight for about 12km to Yang Bay.
Suối Mấu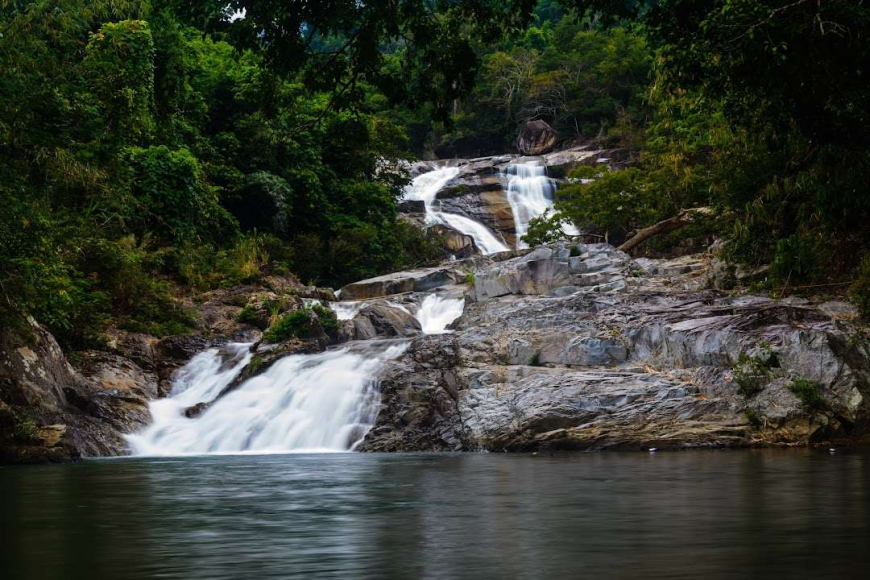 Source: Internet
FOR: A quiet picnic and swim in a pristine spot.
WHAT: A water column of about 30m, divided into four floors and surrounded by cliffs covered in lush foliage and moss.
WHERE: About 60 km from Nha Trang city. Khánh Thượng commune, Khánh Vĩnh, Khánh Hòa province.
Situated about 700-800m above sea level, this is known as the 'first waterfall' in the province. It has an abundant water flow, so it remains impressive in the dry season. Breathe in the fresh forest air, take a dip in the 150m2-wide pool, and set up your picnic on either side of the water. Rare plants are abundant here. See what you can find. 
DIRECTIONS: It's about 6km from the fork in the road that goes from Khánh Lê to Dalat. The route to the falls is a little tricky and twisty. Take care. 
Hoa Lan stream
Source: Internet
FOR: Eco-tourists and horticultural enthusiasts.
WHAT: A 6km stream originating from several waterfalls flowing down to the Nha Phu lagoon.
WHERE: On the Hon Heo peninsula, northeast of Nha Trang city.
Picture a soothing, gurgling stream with many mini waterfalls. Add the freshest forest-and-sea air imaginable. Now add an array of exotic orchid flowers to this scene, and there you have it: the Hoa Lan stream (also known as Suối Tử Sĩ and 'orchid island'). There are activities aplenty here, including hiking, kayaking in mangrove forests, and various other water sports. 
Hon Heo's Orchid Brook is a paradise for plant-lovers. It includes many intertwined trees, among which are butterflies and many orchid varieties. Look out, especially, for the vivid purple flowers of the Rhynchostylis gigantea (Nghinh Xuân). 
Apart from nature, this region is of interest for cultural and historical reasons. Firstly, it shows evidence of the spiritual lives of the ancient Cham people who once lived here. A rock at the foot of the stream features carvings of ancient Cham script. Why? A Cham king once made a pilgrimage to the site. Secondly, the peninsula also served as a resistance base during the wars against the French and the Americans. 
DIRECTIONS: Head about 18 km to the north to Ninh Phú, Ninh Hòa, Khánh Hòa.
Thạch Lâm stream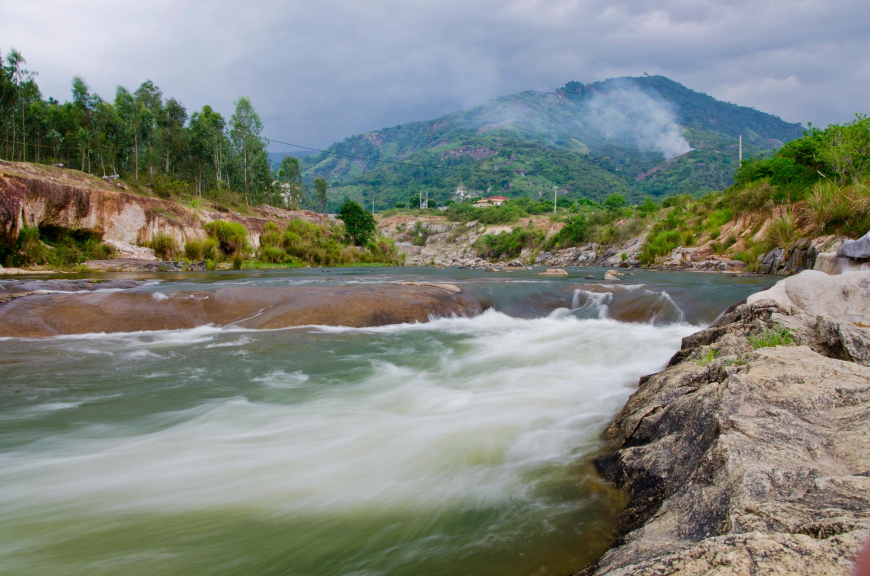 Source: Internet
FOR: A short trip into nature.
WHAT: Pools and rapids in a waterpark.
WHERE: Suối Cát, Cam Lâm, Khánh Hòa; about 20 km from Nha Trang.
Apparently, the late Swiss-French physician and explorer Alexandre Yersin (1863 – 1943) first opened the route to this stream of falls. The bacteriologist – credited with helping to discover the bacteria that causes bubonic plague – spent a significant portion of his life in Vietnam. (The house he lived in Nha Trang is now the Yersin Museum.)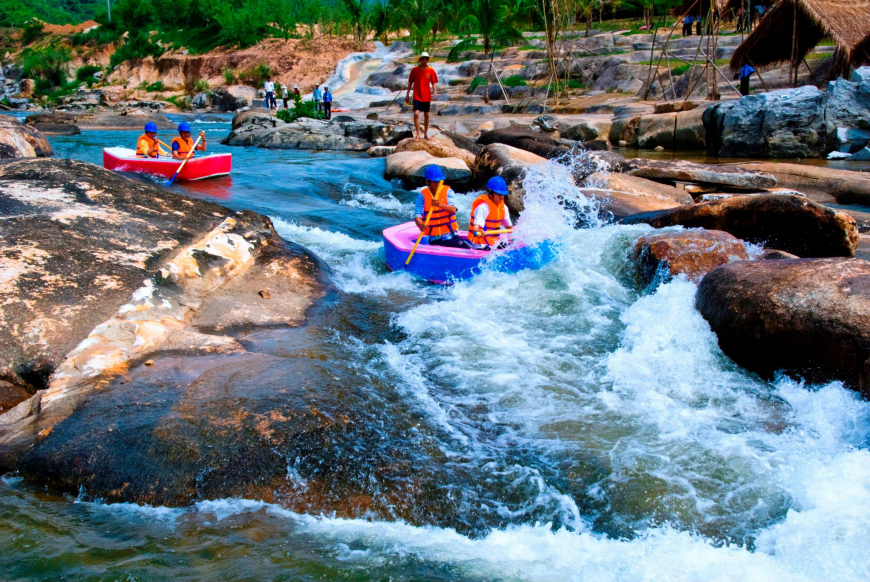 Source: Internet
Looking to entertain children or connect with your inner child? The rocky areas and land around the rapids at the Thạch Lâm stream have been converted into a waterpark. This means plenty to do. Think rubber-tube rafting, canoeing, paintball, water-skiing, mini-golf, and more. Kids will relish the chance to do some 'grass-skiing' down the lawn embankments. Then enjoy the rustic Vietnamese dishes on offer at the countryside market. 
DIRECTIONS: Head south of Nha Trang city along National Highway 1A. Turn left at the Suối Cát junction and drive for about 5km. 
Tà Gụ waterfall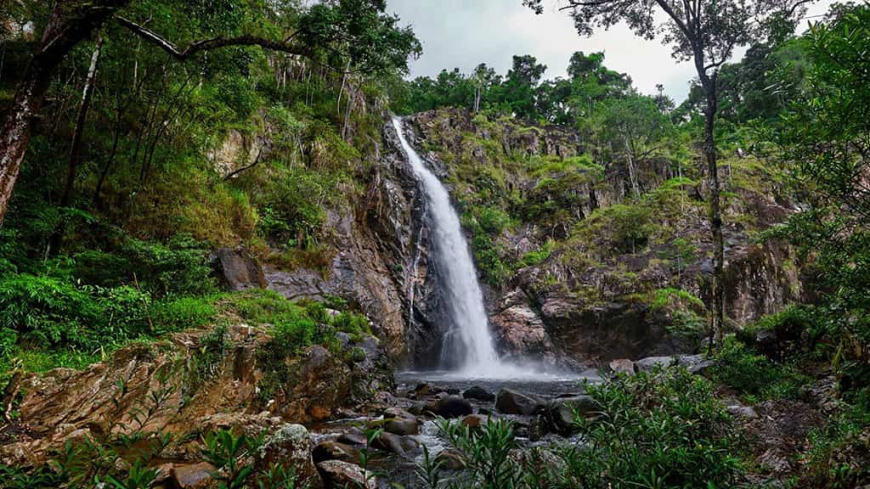 Source: Internet
FOR: Adventure-seekers wanting some wild swimming far from the crowds.
WHAT: A waterfall of about 40m high with two levels to enjoy.
WHERE: In the Sơn Hiệp commune, along the Khánh Sơn mountain pass.
Tà Gụ is also known as 'Ivory Waterfall', like it's two calm, steady flows resemble gleaming white elephant-ivory tusks. There are two myths about how the waterfalls formed. One involves a python and baby elephant battling on the cliffs, with both falling into the abyss. Upon returning, the elephant's mother shed tears of grief that became the falls. According to the other story, faeries once came down from the sky to wash their hair in the stream. But one day, one faery took her time. She was too late to leave the human world. The sky door closed, and she was turned into the waterfall. 
As this waterfall isn't that well known, its nature is quite untouched. The hike to the falls is a bit arduous (think slippery rocks, streams crossing, and having to hold onto tree roots for support). So it's not advised for elderly travelers. 
DIRECTIONS: From Nha Trang, go to To Hop town in Lâm Đồng province. Take the provincial road 9 to Sơn Hiệp commune. To get to the main waterfall, you'll need to walk another 200m. Ask locals for directions as there aren't any signs. It's another 200m to reach the top of the falls.